(For all ingredients, please use organic versions if available)
2 cups puréed pumpkin (fresh or canned)
2 cups of unbleached white flour
1½ of organic whole wheat flour
½ cup of cane sugar
½ cup of vegan butter
2 teaspoons of baking powder
1 tablespoon of ginger
½ teaspoon of baking soda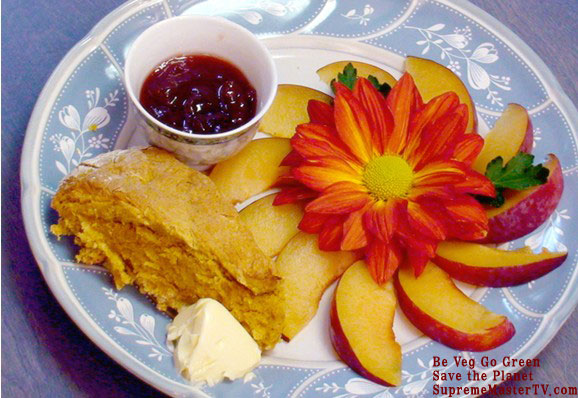 Directions (to make puréed pumpkin)
1. Chop this pumpkin up
2. Make a little hole in the pumpkin with the point of your knife (you'll need
a good sharp knife)
3. Remove the center, the soft part where the seeds are.
4. You can use the seeds too.You can wash off this bit of pulp and take those seeds and put a little olive oil and a little salt on them and bake them. And put that to the side.
5. Cut this into finer pieces here, so it's easier to peel.
6. Steam the pumpkin for about 10 or 15 minutes, until it's soft. And use a vegetable peeler to take that peel off.
7. Once it's peeled, chop it into pieces.
8. Put that into the pot.
9. You need about 2 cups, So, this has been steaming now for about 10, 10 or 12 minutes, and it's nice and soft.
Directions (to make scones)
1. Putting a cup and a half of whole wheat flour, a couple of cups of white flour – organic, and the vegan butter in the flour,
2. Mix these two up a little bit before you start;
3. Break that vegan butter up.
4. Add the brown sugar – organic brown sugar, and the baking powder; these can all just be added in together;
5. Mix the baking soda, the ginger
6. Add the puréed pumpkin. Mix this with your hands or spoon.
7. You don't want to over-mix it, but certainly all the ingredients need to be blended up well together.
8. After this looks just a little bit dry, add a bit more pumpkin which is the moisture content in these scones.
9. After all mixed up;( it's formed a nice kind of a dough.) It's ready to cook.
10. Put this on a baking pan
11. It's good to have a little bit of flour on hand, because it can stick to your fingers, and it you just tap a little flour on where it's needed, then it won't stick so much.
12. Make them in a circle, Pat it down, 'til it's about, oh, a couple of centimeters, 1–2 centimeters high, depending on how thick you like your scones.
13. Before put it in the oven, cut it into pieces. You can cut it into as many pieces as you want; (about 12 pieces because that is about the right size for a serving.)
14. After the oven is ready, cook it in a fairly hot oven, about 425 degrees.
15. Put it in. And wait for about 12 minutes.
16. If you serve them with vegan butter. Just slice them in half, and you have vegan butter and a jam of your choice on them.