(For all ingredients, please use organic versions if available)
Gundruk and Soybean Curry
Onions
Tomato
Green garlic
Gundruk (fermented
sun-dried leafy vegetables)
Soybean
Salt
Ground cumin seed
Turmeric powder
Oil
Green chili
Dhedo
Maize flour
Water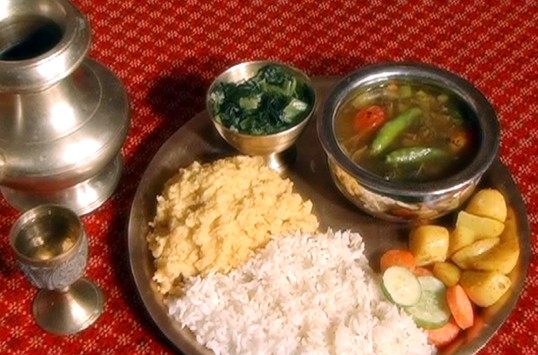 Gundruk and Soybean Curry:


Heat the pan and add 1 spoonful of oil some oil.
Add some soybean.
Cook the soybean well so that it will be easy to digest. When the soybean is pop, then it is ready. Put it on a bowl.
Put a pot on the stove, add some oil.
Fry the onion.
Add the green chili, green garlic, tomatoes, small amounts of turmeric powder, and 1 spoonful of cumin powder.
Add some salt according to taste.
Add in the gundruk.
Add a little flour to make the soup thick.
Add some water.
Mixed it well.
Add in the fried soybean.
Let it boil for a while.
Ready to be served.
Dhedo:
Boil the water.
When it's boil, add a little flour to it,
Stir it continuously so that the flour won't stick.
Let it steam for a while.
It might take almost 10 minutes to cook.
Keep the heat low, and stir it again.
Keep on stirring.
Ready to be served.
Serve the gundruk with the dhedo.